Probably one of the most crucial and difficult wedding preparation stages is making wedding invitations. Whether you do it for yourself or for anybody else, everything should be perfect. That is why in order to save your time and make it easier, we're glad to represent to you our wonderful collection of free wedding invitation templates

Free Wedding Invitation Templates by FixThePhoto
The most significant advantage is that you will get a wedding invitation card template for free. Such layouts are created in PSD format files and offer a great variety of designs and colors. Thus, you could choose the most suitable for your purpose or style of the wedding ceremony. All you have to do is open the template, adjust it, add information, and use it!

Check out more free wedding invitation templates click HERE.
Burgundy Wedding Invitations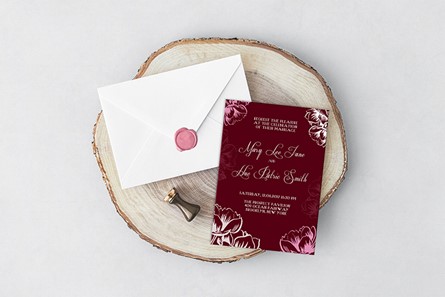 Such a bright and colorful vinous template will certainly please all the guests. You can't go wrong with them if you have a burgundy-style wedding.

Check out:
Gentle Wedding Invitations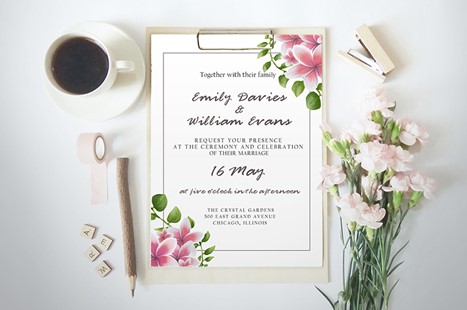 Are you planning to have a wedding party in a floral style? Take a closer look at these beautiful and delicate free wedding invitation templates decorated with nice flowers.

Violet Wedding Invitations

Сreate your own wedding invitations free with the help of the floral violet design layout that will be perfectly suitable for the Provence style weddings.

Basic Wedding Invite Free Template

Such an example of free rustic wedding invitation templates is two-sided. It looks really fresh and inspiring, highly recommended for eco-friendly weddings.

Free Tulips Wedding Invitations

It's hard to find a person, who doesn't like flowers. The invitations with beautiful, gentle tulips look even more beautiful and attractive.

Cherry Flower Wedding Invitations

Wedding invitations with the image of cherry flowers look very delicate. They will be perfect for fruit-style weddings.

Eucalyptus Wedding Invitation Templates

Eucalyptus wedding invitation card design may seem to be a weird idea, but such green color is really amazing. Use the templates for weddings in green tones.

Save the Date Template – Calendar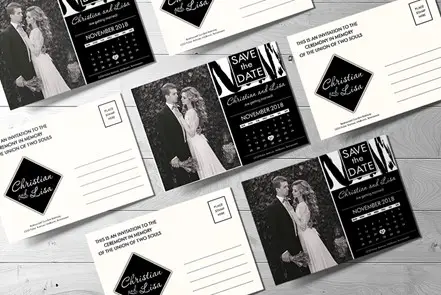 Such Black&White templates with geometrical patterns look very stylish. Use them if you have a modern-style wedding.

Wedding Invite Templates – Watercolor Collection

The restrained design of such a layout makes it unique, and the flowers are so cute and attractive. You may use such cards for eco-style weddings.

Wedding Invitations – Flower Frame

Weddings in pastel colors are always popular. That's why these floral homemade rustic wedding invitations will complement the style of the occasion.

Flowers Wedding Invitation Cards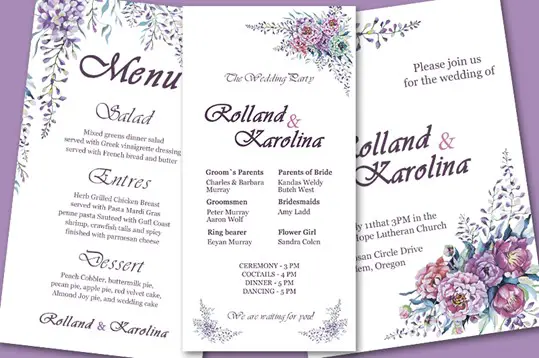 What is a wedding without gentle, pastel flowers? They will also become a great decoration for such invitation templates, made in grey tones and classic style.

Lavender Wedding Invitation Templates

If you decided to make a wedding in Provence style, with lavender and blue elements, such invitations will completely reflect such a style.

Nude Flowers Wedding Invitations

Nude colors are always a great idea, and such invitations aren't an exception. Their classic design combined with the floral images looks wonderful.

Wedding Invitations – Mythical Feathers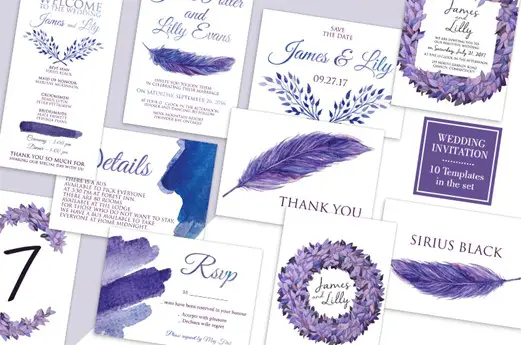 These templates are created in violet colors with nice feathers. They can be used for some boho-style weddings.

Wedding Invitations Templates – Mountains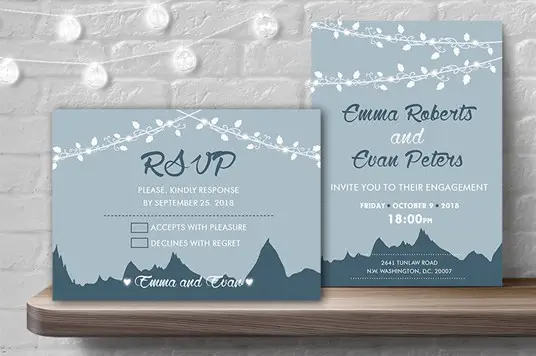 Are you organizing the wedding for travelers? The invitations in cold and pastel colors with mountain designs will become an amazing idea.

Roses Wedding Invitations Templates

The roses, pink and green colors make this wedding invitation card template very beautiful and unique. They can be used for Shabby Chic weddings, for example.

Turquoise Branches – Wedding Cards Templates

This kind of template is perfectly suitable for an elegant wedding in turquoise tones. The design is simple but very charming.

Blush Wedding Invitations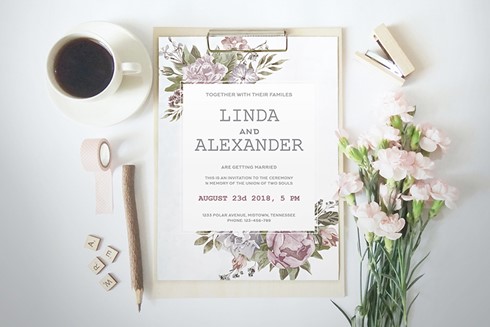 These invitations are created in subtle and soft colors. They will be ideal for the wedding in tender and soft matte tones.

Ultra Violet Wedding Invitation Templates

The beautiful violet flowers on these invitations make them very original and unique. You can use such templates for weddings in a modern style.

Vintage Navy Blue Templates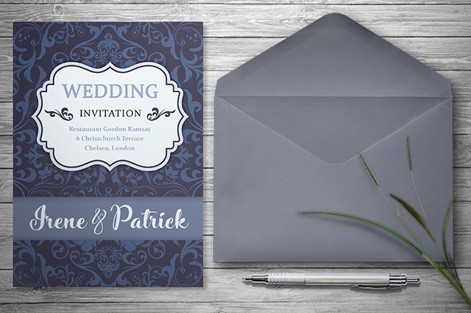 The free wedding invitation templates with interesting patterns in navy blue tones will be especially suitable for elegant loft-style weddings.

Wedding Invite Templates – Violet Flower

Violet and floral design always look stylish. Such templates will suit weddings in a rustic style.

Yellow Flowers – Wedding Invitation Template

Very unusual and bright, such homemade rustic wedding invitations with a floral pattern are especially suitable for eco-style weddings.

Useful Tips for Beginning Graphic Designers
Whether you have already taken some courses or classes on graphic design, or you are an amateur and self-taught person, anyway, you have probably looked through different tips and techniques related to creating invitations.
That's why we want to give you some simple but very useful tips to improve your skills and make your learning easier.

1. Don't Underestimate Simplicity
Don't try to put everything you want in one template, as most often it looks absurd and unattractive. In such situations, just stop for a few minutes and remember that simplicity sometimes looks most beautiful.

2. Repetition Is the Key to Improvement
Remember the phrase 'Practice makes perfect, as it really works. When you improve your skills over and over again, eventually you'll achieve incredible results.
Try to find something you really like and repeat it several times. Don't be afraid to create the same elements or even design patterns. The main thing is to make progress.

3. Value the Whitespace
Pay attention that most famous brands use minimalistic designs for their products. The whitespace doesn't always mean that you have to add something colorful.
Instead, try to choose a really high-quality and beautiful font, and you'll see how amazing your creation looks.

4. Let the Colors Pop
It's very important to create a product that will immediately attract attention. But how should you do it with a minimalistic design? The best way is to play with colors.
Pastel and restful tones look beautiful, but sometimes it's just necessary to add more bright colors, such as red, and yellow. You also should put short text in a center for a viewer to concentrate his/her attention on it.

5. Break the Rules
The important thing is not to be afraid to experiment. Sometimes it's useful to break the rules and create a wedding invitation in monochrome or with surreal designs.
Try to be always enthusiastic and passionate about your work. Thus, you will reach great results.

Conclusion
If you feel that you still lack experience, don't worry. Just go on doing and trying something new. Design and create more and more, and practice as much as possible. You also should take advantage of everything and even negative criticism.

Feel free to comment below.
Check out our website for more content like this click HERE.