Looking for the best mouse for Photoshop? One that gives you optimal control and freedom of movement? If you're a graphic designer or photo editor, you'll crave these things.
Photo editing isn't easy when you have a bad mouse. The task calls for immaculate precision, which, in turn, requires a ton of persistence and patience. This is why having a good device works to your advantage. It makes photo editing a whole lot easier.
It's easy to lose your cool when the going gets tough. After all, photo editing goes down to the tiniest detail. It's a game of millimeters. Thus, begs the question: what is the best mouse for Photoshop?
Some graphic designers prefer a stylus or some kind of special pen when working on Photoshop. Others use a tablet. However, a handful still uses the good, ole computer mouse.
This brings us to this article's topic. What's the best mouse for photo editing? Will you go for an ordinary mouse for Photoshop? Or is there a specific type that's considered an ideal or good mouse for Photoshop?
You may also like:
Best Video Clip Effects
Best Laptops for Graphic Design
Best Laptop for Adobe Illustrator
We've asked a couple of people what's the best mouse for Photoshop. So in no particular order, here's our pick on the best computer mouse models to consider for photo editing use.
Apple Magic Mouse 2

Not to sound biased but Apple does really create a lot of cool stuff. They're not just aesthetically pleasing but also highly functional too. Take this mouse for instance. Truly amazing stuff.
The all-new Apple Magic Mouse 2 is designed for comfort, convenience, and functionality. It delivers more advantages than its prior model. It's lightweight yet durable. Apple also made sure it offers a smoother, optimized control. It works well for Mac computers with OS X v10.11 or later.
The Magic Mouse 2 is designed for multi-touch gestures. Scroll, swipe, or zoom with ease on its smooth, uninterrupted surface.
It's also got a built-in rechargeable battery (it's lithium-ion, which means it charges fast but the last longer). Average battery life is about a month or more at a single charge, depending on the use. And because it's rechargeable, there's no need for disposable batteries. How fast does it charge? You get 9 hours of use in a two-minute charge.
The Magic Mouse 2 is Bluetooth-enabled, having a range of 33 feet. Apple provides a year of warranty on this product. While it looks like its predecessor, this wonderful computer mouse is more comfortable and ergonomic. You'll appreciate its silky smooth and effortless operation when you need to work with Photoshop.
The downside, however, is it's pricey compared to most of the competition in today's market. But it can't be denied it's a great pointing device. Truly a contender in the running for the best mouse for Photoshop.
Magic Mouse 2 Features
Simplified design that's focused on enhancing the user's experience
Equipped with a built-in rechargeable battery (average battery life is about 1 month on a single charge)
Includes a lightning-to-USB cable
Features a multi-touch surface that allows the user to easily browse between web pages or swipe through documents as one would with a brush of the finger
Improved foot design, which allows the user to track and move the mouse easier and with less resistance on a typical desk surface
Pairs or automatically connects with a Bluetooth-enabled Mac computer with an OS X v10.11 or later
Logitech MX Master

If you're looking for a highly responsive and efficient device, Logitech makes one of, if not, the best mouse for Photoshop. This particular model, Logitech's flagship mouse, is a testament to that.
With the Logitech MX Master, you get comfort and precision as you work on your graphic designs. Regarded by many as the best mouse for photo editing, this product is not tiring to your wrist. It's easy to use, and it's highly functional. It's really helpful when you need to navigate screens. Truly an efficient gadget; more than your average computer mouse.
Did you know the MX Master is compatible with PC or Mac? It's also designed for Bluetooth wireless connectivity and can pair up to 3 computers. To provide a comfortable experience, the MX Master has a contoured shape. Its perfectly crafted silhouette is sculpted to provide ample support to your hand and wrist. And did we mention its well-positioned buttons for a more fluid experience?
For added control and precision, this device is designed with Darkfield High Precision Sensor, which allows for flawless tracking on virtually any surface, including glass.
Improved fine-motion control, ergonomic, and long battery life. If you're looking for the best mouse for Photoshop, you might want to consider the MX Master.
MX Master Features
Uniquely designed thumb wheel for advanced gestures and navigation
Provides easy connection with multiple computers
Pairs connects, and is available for use with up to 3 Windows or Mac computers
Connection with computer/s via Bluetooth smart wireless technology or included Unifying receiver
Designed with a control button that allows easy switch from one computer to another when connected with multiple computers
Tracks anywhere, even on glass or high-gloss surfaces
Average of 40 days of power on a single charge
Razer Deathadder Chroma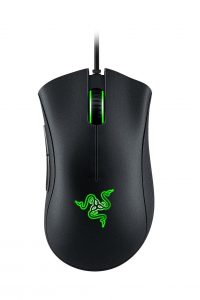 Gamers require a computer mouse of equal, if not greater, sensitivity and accuracy. A computer mouse must be responsive. It must be ergonomic, and designed with sufficient support for the wrist and hand. It must feature an optical sensor that lets you scroll, swipe, or move in any direction with ease.
One of the world's best gaming mouse just entered the race for the best mouse for Photoshop. Check out the Razer Deathadder Chroma. Favored by many gamers, the Razer Deathadder is known for its swift responsiveness, fluidity, ergonomic design, and top quality. It has all the elements for the absolute gaming experience.
If it's good enough for gaming, it's definitely good enough for graphic designing. This is why this particular model is up in the running for the best mouse for photo editing.
The Razer Deathadder has an ultra-accurate optical sensor with advanced trackers, improving the accuracy rate by leaps and bounds. For improved control, this mouse has rubber side grips and a contoured shape, which perfectly fits snugly under your palm.
Deathadder Features
Perfectly contoured to fit comfortably under your palm
Primarily designed to give a comfortable gaming experience
Equipped with a 10,000 dpi optical sensor for enhanced sensitivity and accuracy
Faster onscreen response with mouse movement speeds of up to 200 inches per second
Impressive fluidity is made possible with its optical sensor
Logitech M325 Wireless Optical Mouse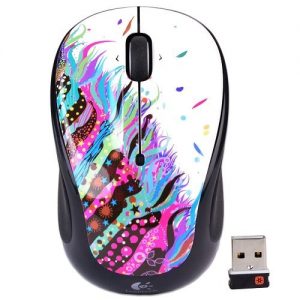 Looking for a computer mouse that feels good in your hand? One that's durable and highly functional. One that's designed for smooth scrolling and browsing. It may not be as popular as Apple's Magic Mouse 2 or Logitech's other flagship devices. But this Logitech model is definitely in the running for the title of best mouse for Photoshop.
The Logitech M325 Wireless Optical Mouse is the perfect travel buddy. Let's talk about its size. It's not too big but not too small either that you'll tire out your hand while operating it. If you need to put it in your bag, the USB nub fits into its built-in slot so you won't lose it. And since it's a wireless device, you won't have to worry about having wires that bungle with your laptop's power cord inside the bag.
This mouse also features a textured grip and contoured shape that fits snugly in your hand. Scrolling is smooth and fluid. Mouse buttons work perfectly. As most devices require a flat, non-glossy surface to work, this computer mouse doesn't need that. You can put it against a textured surface like that of a couch and it will still work.
With respect to the level of sensitivity, it's impressive too. You don't need to move your hand all over the place to move the cursor. Which is perfect for long hours of photo editing. No pressure is needed as well to get the buttons to work.
It's got the qualities of a good mouse for Photoshop. And it's reasonably priced too! A highly recommended gadget for photo editors.
M325 Features
Equipped with Logitech advanced optical tracking for micro-precision
Makes scrolling and browsing a whole lot easier
Feel-good, ergonomic design
Features contoured shape and comfortable rubber grips
Longer battery life averaging up to 16 months
Reliable wireless connection for Windows, Mac, and Linux
Logitech G703 Wireless Gaming Mouse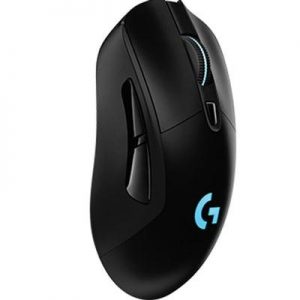 This is the third Logitech mouse on the list. And it happens to be Razer Deathadder Chroma's closest competitor. Deemed by many as having the best gaming mouse sensor in today's market. What's so great about this model? Let us count the ways.
Gamers spend a lot of time with their hand on the mouse. Graphic designers and photo editors also spend a lot of time with their hand on the mouse. This is why the Logitech G703 Wireless Gaming Mouse is perfect.
The G703 is designed for long hours of gaming. When added to the mix in photo editing, this specialty device is a plus for graphic designers. It's ergonomic and reliable. This mouse is contoured in a way that its body rests snugly in your palm while your fingers slope toward the buttons and scroll wheel. It also has rubber grips on the side for added control.
Originally advertised as a gamer's mouse, the G703 offers advanced sensor and button tensioning, which is great for a graphic designer or photo editor. These features enhance the level of responsiveness as well as improve the fluidity and acceleration of mouse movement.
The downside is it's pricey though. But overall it's a great mouse for Photoshop.
G703 Features
Designed with LIGHTSPEED Wireless Technology for impressive responsiveness
Features advanced sensor and button tensioning
Ergonomic, lightweight, and functional for long-lasting comfort
Contoured body with rubber side grips for enhanced control
Regarded by many as having the best gaming mouse sensor
Fluid mouse movements and exceptional click feel and consistency
Microsoft Wireless Mobile Mouse 3500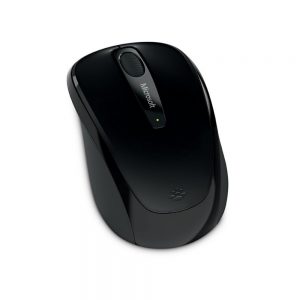 If you're looking for comfort and style in one device, you'll love the Microsoft Wireless Mobile Mouse 3500. This wireless gadget fits comfortably in your hand. And if you're always on the go, it's perfect for your mobile lifestyle as well. Why? Because it's equipped with a Snap-in Nano Transceiver.
With a wired mouse, you need to unplug it first then roll the wire up carefully so as not to bungle it with your laptop's power cord. But with a wireless mouse, you won't have to worry about these things. That's what you get with the Snap-in Nano Transceiver.
When it's time to pack up, you can choose to keep the mouse's USB attached to your laptop. Simply place your laptop and the mouse in the bag and you're on your way. No hassle. Or if you choose to remove the USB, simply tuck it into the slot located on the underside of the mouse. The Microsoft 3500 is also designed with an on-off button to conserve battery life.
You can use the Microsoft 3500 just about anywhere. On a mouse pad, on a desk's flat surface, on a rough park bench. It even works on your living room carpet. Its secret: the Microsoft BlueTrack Technology. This advanced feature allows enhanced sensitivity and optimum precision. It's a combination of optical technology and laser tracking.
Most devices are designed only for people who use their right hand to operate the mouse. But not the Microsoft 3500. With its ambidextrous design, you can use it with your left or right hand.
However, the Microsoft 3500 only supports Windows computers. That's one limitation but still it's in the running for the best mouse for Photoshop.
3500 Features
Designed for left-handed and right-handed users
One AA battery can last up to 6 months
Equipped with an on-off button
Compact, comfortable size
Portable wireless device, making it great for traveling
AmazonBasics 3-Button USB Wired Mouse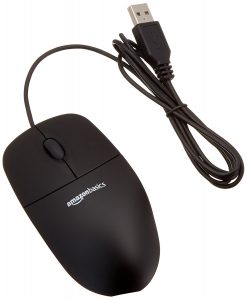 The best mouse for Photoshop need not be expensive or have those flashy features. Even the simplest devices can be in the running as the best mouse for photo editing. Case in point: AmazonBasics 3-Button USB Wired Mouse.
It has all the basic functions that you need in a computer mouse. It may not have the contoured look that you can see with the previously mentioned devices. But the AmazonBasics Mouse has the comfortable sleek design which suits most users. And did you know it has an ambidextrous design? Whether you're left-handed or right-handed, it works well.
To get started, simply plug the cord into your laptop's USB post. You don't need a mouse pad. Equipped with an advanced optical tracking system, this affordable mouse features precision tracking and fluid movements. And for faster browsing, you can use the mouse wheel.
If you're looking for a good mouse for Photoshop that's value for your money, this is it. Just like other AmazonBasics products, this gadget won't let you down. Truly awesome without having to dish out a lot of cash for this device. The shape, texture, button and wheel action—everything works well. It's sized and shaped perfectly for an average user's hand.
The AmazonBasics Mouse may not be the best mouse for Photoshop, considering the competition. But it's definitely a great one. It's affordable and very practical. Can't beat the price!
AmazonBasics Mouse Features
Very affordable
Offers smooth movements
Fluidity and precision at its top features
Designed with high-definition optical tracking
Features a 3-button selection with a 1.5-meter cable
Pairs with Windows and Mac OS
Simply plug and you're good to go
Certified Frustration-Free Packaging
Genius Wireless Mouse Pen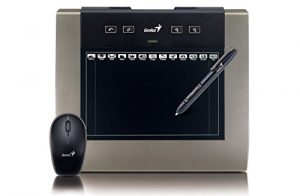 If you're the old-school type who draws and designs with a pen, you'll love this innovative mini pen-style mouse. Check out the Genius Wireless Mouse Pen.
The wireless mouse cursor offers impeccable accuracy and precision. And because it's shaped like a pen, it affords the improved mobility, freedom of movement, and the old-fashioned feel of drawing with a pen. You can write, sketch, or sign with better control. It gives you handwriting accuracy. The cursor moves exactly where you pinpoint the mouse pen. Truly awesome.
The Genius Wireless Mouse Pen is great for people who often complain of wrist or hand discomfort due to prolonged mouse use; traditional mouse, that is. Because your hand is in a better, conventional writing position, there's less likelihood of developing problems like carpal tunnel syndrome.
Learning how to use this type of mouse may take some adjustments. But it won't take too long. After all, you're simply repositioning your hands from the traditional mouse use to gripping a pen-shaped device. And once you get the idea, it works really well for you. It's a good mouse for Photoshop.
Wireless Mouse Pen Features
Features a cordless mouse and pen for improved versatility and unlimited freedom
Enhanced pressure sensitivity and high accuracy for precise cursor control
Wireless connection range is about 10 meters
Kensington Expert Wireless Trackball Mouse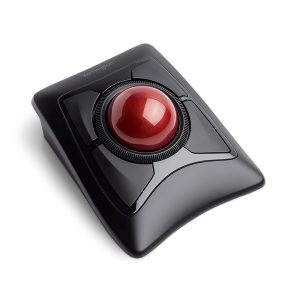 Here's an unconventional, if not outright oddball, choice. It's certainly not for every graphic designer or photo editor out there. But it offers better wrist support in addition to its advanced features. If you're into this type of computer mouse or willing to make the jump from the traditional mouse, you'll love the Kensington Expert Wireless Trackball Mouse.
What's in store for you with the Expert Mouse Wireless Trackball? If you need unlimited freedom to be hyper-productive with your photo editing tasks, not minimized or restricted by a cable or USB connection, this mouse is for you. The Expert Mouse Wireless Trackball connects with your computer through Bluetooth wireless technology.
For smooth, fluid mouse movements and improved cursor precision and control, this unconventional mouse is designed with DiamondEye optical tracking technology and allows incredible customization. Its built-in Scroll Ring system lets you scan, scroll, or browse pages quickly and effortlessly.
The Expert Mouse Wireless Trackball works well for both right-handed and left-handed users. And with its detachable wrist rest, there's less risk of hand or wrist problems. The wrist rest features soft, cushioned cradles on which you rest your hand and wrist for a comfortable operation. Truly an ergonomic device designed for pain-free handling despite extended usage.
While trackball mouse models are a thing of the past and often find gradual eradication in today's practice, these devices actually can make graphic designing and photo editing a whole lot easier. Trackball mouse models ensure you won't have to move your arm or wrist, reducing your risk of carpal tunnel syndrome. It also saves you time and energy in manipulating and editing a photo. This is why we've included the Expert Mouse Wireless Trackball in this list of contenders for the best mouse for Photoshop.
Trackball Mouse Features
Pairs or connects with Windows and Mac computers via Bluetooth wireless connection
Software allows you to customize its buttons or adjust cursor speed
Features an advanced optical tracking technology for improved accuracy and premium cursor control
Lets you scroll or browse pages at any direction with ease
Large ball designed for exceptional precision
Designed with a detachable wrist rest support for improved ergonomic comfort
Works well for right-handed and left-handed users
Designed with an auto-sleep features to help conserve battery life
Best Mouse for Photoshop – Conclusion
For graphic designers and photo editors, getting your gear sorted is crucial to completing the tasks efficiently. Sure, laptops and computer monitors are often considered and given more weight. But while often overlooked, the humble mouse is probably the most important tool.
Imagine working more than 40 hours a week on photo editing or graphic designing work. Having a computer mouse that's responsive, precise, accurate, and comfortable can make the task a whole lot easier. A good mouse for Photoshop will make a huge difference.
Should you go for a wired or a wireless device? Would you opt for a conventional mouse or a pen-styled ghttps://www.psdtemplatesblog.com/adget? Perhaps a trackpad? Before you drop your cash on a purchase, it pays to evaluate your needs in relation to the requirements of your everyday tasks.
Do you have recommendations? What do you think is the best mouse for Photoshop? Feel free to share with us your suggestions in the comment section.
Check out our blog for more content like this.