Planning to have a spooky get-together with family and friends? When it's that time of the year, kids and adults like dress up as their favorite ghouls and goons. It's also that time of the year when candies and sweet treats are plentiful. What a great way to start off your spookfest than with spooktacular Halloween party flyers. Check out our tips and mockup templates on how to create cool and eye-catching invitations.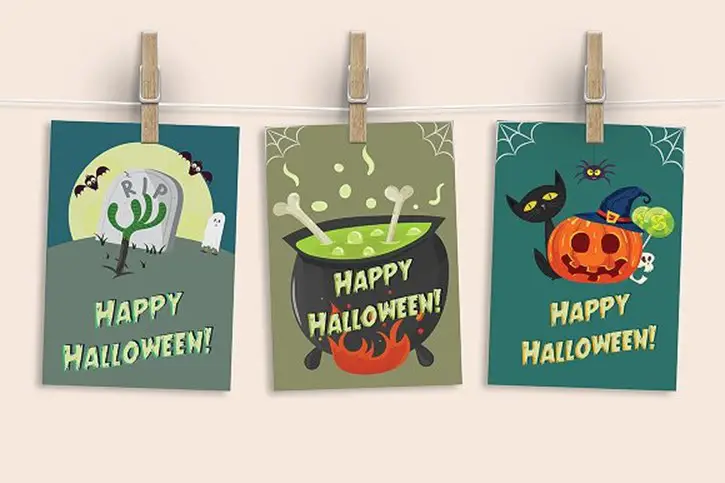 Are you ready for that special night where little ghouls and goons run around the neighborhood, knocking on doors for treats? Don't you love the fun spirit that surrounds the community during Halloween? Those tiny tots look cute in their spooktacular costumes. But you know what, the kids aren't the only ones enjoying the fun. Adults to join in the fray.
Many people would throw memorable Halloween-themed parties. They would dress in their favorite characters, ranging from Marvel superheroes to Disney princesses. Some even go to the wilder side by slipping into sexy costumes, contrasting other people's childhood-theme dress-ups.
Check out more cool Halloween party flayers click HERE.
There is no limit to one's imagination though.
This is why Halloween is up there on the list of the most fun events of the year. But guess what. You don't have to wait for the last quarter of the year to celebrate this vivacious party event. You can set up your spooky party events at any time of the year. Heck, you can even make birthdays, weddings, and company parties have a Halloween theme.
If you're looking to set up a Halloween-themed celebration, you'll have to follow through with the tradition. You'll need candies and sweet treats. Some ghostly decor on the walls, ceilings, and door too. And what better way to truly amp up the spooky party and give it a truly Halloween spirit than by sending the invites.
In this article, we have selected some of the best mockups and templates to create fun Halloween party flyers. With these graphic design tools, you won't need the design professional's help. This spooktacular collection of layouts and effects contains all that you need to satisfy your party needs.
Halloween Party Flyers and Invites
There's no rule against holding Halloween parties at any other time of the year. So if you're looking to get eerie, you can hold spooky events even as early as January. And what better way to spruce up the party than inviting more friends and family to the fun gathering.
So if you're planning to send the invitations, you'll love these templates. We offer some of the best templates and mockups to help you craft Halloween party flyers. These layouts are easy to use and promise to give you cool and awesome invites to your spooky party.
These Halloween party flyers and invites are great for kids and adults alike. They're super cute and playful. Ideal for spooky-themed birthdays, weddings, and other special occasions. And why stop there? You can use these Halloween party flyers even on ordinary days when you summon your pals to eat, drink and binge on Netflix.
With themes ranging from playful designs to sexy ghoulish layouts, you can opt for a portrait or landscape orientation for your party flyers and invitations. Perhaps add a retro charm to create a nostalgic childhood appeal. Of course, there's the usual fixtures of ghosts, skulls, witches, and tombstones. These elements are fully editable. You can customize the colors, text, and elements too.
Check out:  Best PSD Flyer Mockup Designs You Can Download for FREE!
A Few Pointers When Crafting Your Halloween Party Flyers and Invites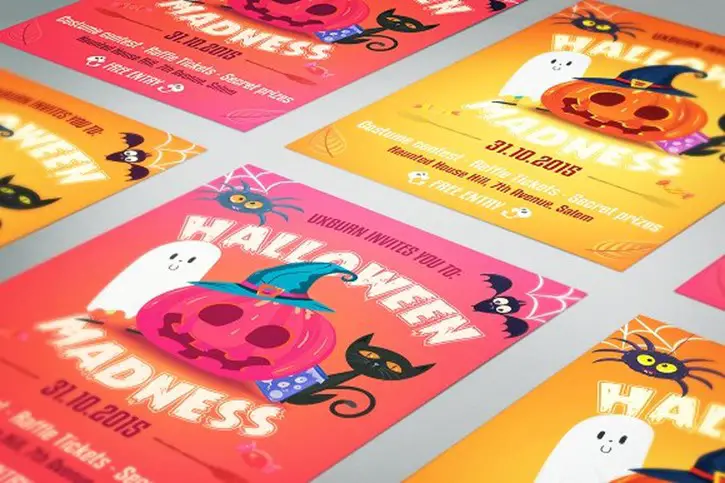 Before getting started on your design, here are a couple of tips on how to make cute and eye-catching Halloween party flyers and invites.
To start off, make sure that the heading text is noticeable, easily catching the attention of the reader. The name of the event should be striking. The text on the important details of the invite should also be prominent. The venue, date, and time details need to be written in such a way that they're easy to spot.
Be creative with the name of the event. Don't just state "Halloween Party" on the flyers or invites. Make it more spiffy with a headline like "Night of the Living Dead" or any similarly crafted heading. It's more attention-grabbing and fun that way.
Don't forget to add graphics and photos to your Halloween party flyers and invites. Not only do they add life to the invitation, but these design elements also make it more inviting and eye-catching. If it's a spooky-themed birthday party, perhaps add personal photos of the celebrant; a cake and some candles would be nice too.
Check out: The Importance of Choosing the Right Color Scheme for your Website
Best Flyer and Invite Templates for Your Halloween Party
We're not sure if you know this, but you can't have a Halloween party without sending the necessary invites. That's the rule though.
So if you're looking for professionally designed Halloween party flyers and invites, we got you covered. You can find inspiration from these templates and mockups we picked for you. In this article, we curated some of the best spooktacular layouts to satisfy your party needs. Of course, we don't want you violating the rule we mentioned.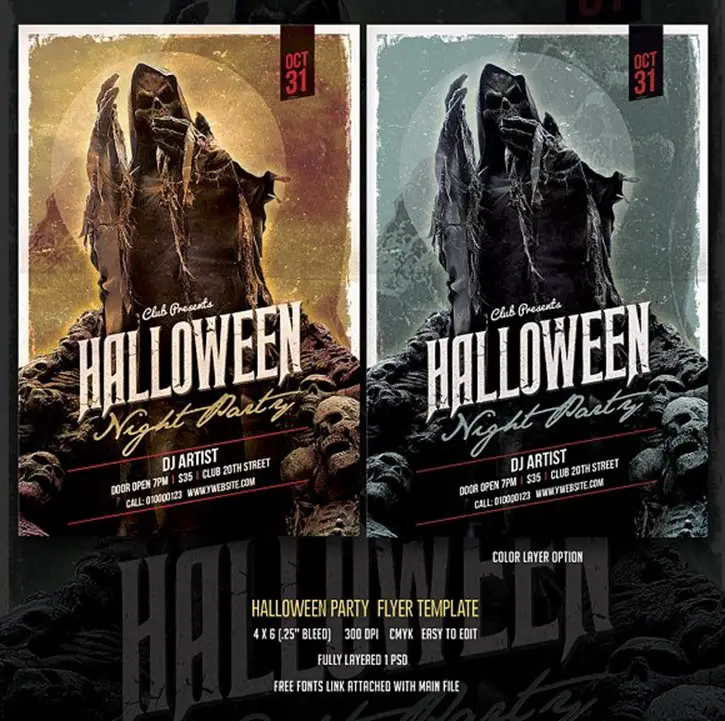 Have you seen or are you familiar with the TV show "Tales From The Crypt"? It was very popular in the 90s and was even made into a movie. Well, that's what this PSD file features. It has this scary-looking skull-faced guy with his tattered clothes. And it's got skulls in the background too. Kinda scary for kids but perfect for adults who are looking to join an eerie party.
The Halloween Party template 1 features a fully layered PSD color option. It's available for around $9.
Check out: Want to Add Texture to Your Designs? Try Grunge Wallpaper!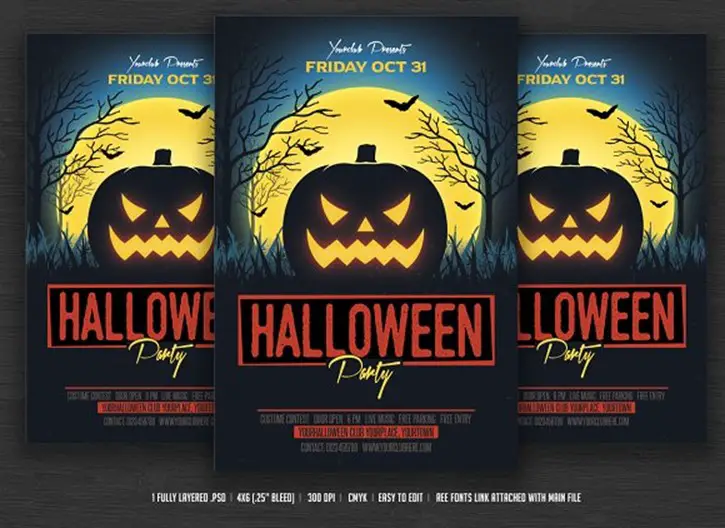 The first Halloween party flyer we mentioned was too scary for kids. But this second template is a bit friendlier. The Halloween Party template 2 features a Jack-o'-Lantern with a bunch of bats and leafless trees in the background. You can use these as Halloween party flyers for events geared toward kids and teens. This is available for around $8.
There's also a variation to this template. Still, by DesignWorkz, the Halloween Party Flyers template features a scarier version of the Jack-o'-Lantern design. It has a white/beige background. Check out this cool, eye-catching template for your Halloween party flyers. This one is also available for around $8.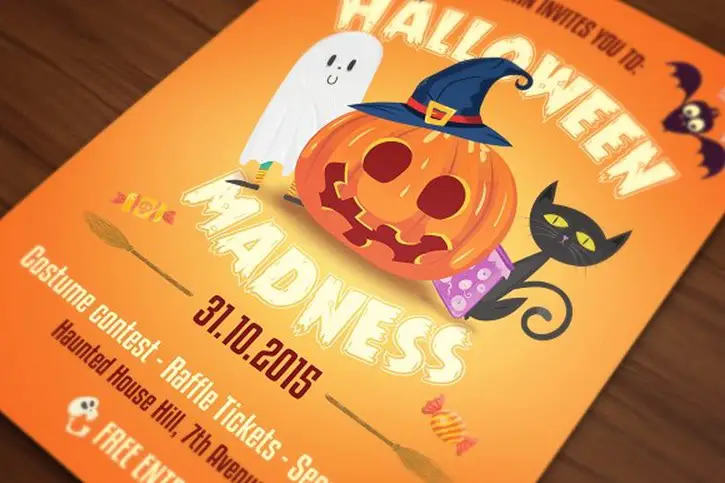 This one is definitely for the kids and teens. Absolutely not scary at all. The Halloween Flyer Cards Illustrations feature a cartoony version of the Jack-o'-Lantern surrounded by a white ghost and black cat. You can customize the vector illustrations too. The images are crispy detailed and ready for printing. You can get this template for around $10.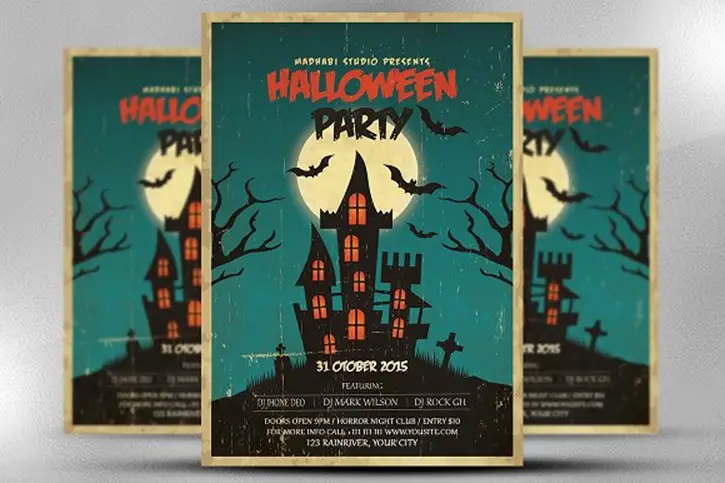 If you're looking to promote a Halloween party, this template is perfect for club events or house parties. It features a unique, modern design that you can customize to suit your design preferences. Get it for around $8.
Conclusion
Do you like what you read here? Check out our other articles.
Tell us what you think about the flyers in the comments section below.
Check out more content like this click HERE.